Pro Tackle Fishing Bass Shop
Product Search
Product Navigation
Brands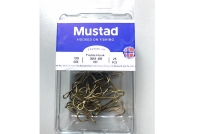 Sale Price:
$12.99
Approx. US Price:
$8.96
1/0 3551-BR (25 pack)
-Mustad's Wire Technology and Nor-Tempering Process means that hooks are lighter and up to 30% stronger.
-The "MTL-V1" point combines a more efficient point design with a new sharpening process to enhance the quality.
-The result is a sharper, sleek new point shape with penetration resistance 50% lower than standard Classic Hook points!
-Mustad's Wire Technology And Nor-Tempering Process Means That Hooks Are Lighter And Up To 20 percent Stronger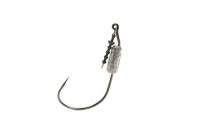 Sale Price:
$10.99
Approx. US Price:
$7.58
The Power Lock Plus® features a unique ridged gripper pin, offering a secure hold for your favorite swimbait. The sliding build in weight allows for back, forward or centered presentation. Moving the weight is easy. Rotate the weight several times to heat silicon insert. Move weight to desired position. As the insert cools, the weight will be held firmly in place again. Back position will push the bait backwards under structures like logs and docks. Use with tube baits, crawfish or jerkbaits. Forward position will make the bait dive nose down. Use with worms, Gidzit or tubebaits. Centered position will make the bait sink horizontally. Use with tube and jerkbaits, lizards and worms. The wide gap provides excellent hooking and holding abilities.Use it for Bass, Perch, Zander, Pike, and Walleye.
Sale Price:
$4.99
Approx. US Price:
$3.44
The Slow Death® Aberdeen Hook is an Aberdeen style pattern with a special kinked shank that, when threaded with half of a nightcrawler/earthworm and trolled at slow speeds, produces a wild, intense action and reaches areas that blade presentations typically won't reach. This is a versatile technique in which the unique hook design creates an enticing corkscrew presentation that lets you present the bait in cracks, crevices and little corners that faster blade presentations skip. To set up the rig, attach a bottom-bouncer weight to your main line. Tie a 48"/122 cm mono or fluorocarbon leader to the bottom of bottom-bouncer. Thread half a night crawler/earthworm up the hook shank and over the hook eye. There should be up to 1/2"/1,5cm of nightcrawler/earthworm hanging off the hook. Row or use a trolling motor at speeds from 1mph/1kn to almost nothing, keeping just enough speed so the crawler spins. Use it to target Walleye, Bass, Crappie, Zander, Perch or Panfish.